Site Content:
Leveling Guides
Listings of the best World of Warcraft Guides on the net.
Top Warcraft of Warcraft Leveling Guides
I have collected a list of top World of Warcraft leveling guides. These leveling guides are very well done and are used by many people. Beware of a lot of the guides out there because many of them are scams. You will find a lot of guides are very small or loaded with fluff. If you want to recommend other guides or comment on the guides listed, please contact me at admin@warcraftgameguides.com.
Top 5 World of Warcraft Leveling Guides
Below and to the right are the best WOW Leveling Guides as ranked by reviews on the internet. These guides are used by a lot of people and are very good guides. I recommend using them.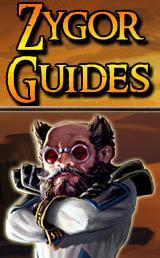 This guide has a lot of good reviews on the internet and has a lot of features such as:
- Step by step detailed instructions - Very simple to understand to the point instructions on where to go and what to do.

- Interactive In-game Coordinates - done with a mod with step-by-step map mod installation instructions.

- Lifetime Free Updates - they know the game is constantly changing so even as they add expansions or patches you will not have to purchase new guides.

- Leveling Gold Guide - a very small gold guide designed to help you make a little more gold as you level your characters from 1-70.
Zygor's 1-70 World of Warcraft Alliance and Horde Leveling Guides have been fully updated for the Patch 2.3 changes. The map add-ons have been fully updated as well.
He sells Alliance or Horde guides separately at $29.99 or both for $49.99.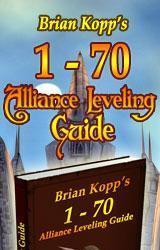 Both Zygor and Kopp's guides are extremely good. Kopps guide however is a little more expensive and there is only the option to purchase an Alliance guide from him. Both creators have put a lot of time and effort into these leveling guides and allow for very fast leveling.
You can try his guide for free from level 1-20.
This site boasts that you can level from 1-70 in 10 days.
He has taken pictures of nearly everything that you have to interact with. I did not have to check wowhead hardly at all. He also has step by step instructions organized by zone and level. There is also a mod that will show locations on your map.
The cost for Brian Kopp's 1-70 Alliance Leveling Guide is $35.
Joana's Leveling Guide is a Horde only leveling guide and is very well done. A big feature of this guide besides the step-by-step instructions is full video library available. There are videos of his character doing 1-60 in 4 days 20 hours which show you how it is done from start to finish. He also has videos for several quests for 60-70 that are available for you. All videos have been redone since 2.3 to take into account the experience change.
This guide costs $37.00.

"Team iDemise Has The
Fastest 1-70 Time in the World!
We Get There In 6 Days 5 Hours and
Using our In-game Leveling Guide
You Can too!"
This is a very well done WOW leveling guide site. They have guides for Alliance and Horde. There is also a map mod that goes with this guide.
The guides cost $8.90 each.
"This is the premier 1-70 Alliance Leveling guide with an amazing interface to help you get to the info you need as quickly as possible. Best 1-70 Leveling Guide Detailed Quest Descriptions Optimized Quest Path Free Updates 100% Legit No Cheats! No Hacks! Easy to Use"
Penn has 2 guides: an Alliance 1-70 leveling guide and a professions guide. Everything has been updated for 2.3.
Each guide costs $17.29.